About TRIO
Meet the TRIO Financial Planning Team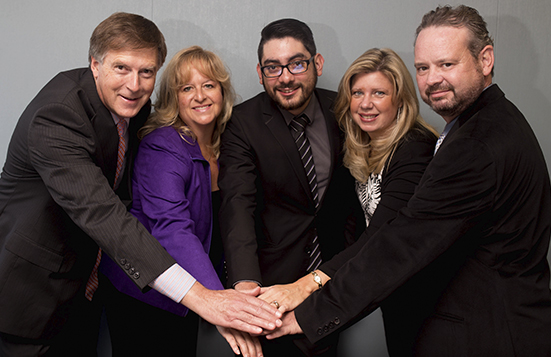 ---
Steve is a graduate of the University of Cape Town, and was a high school mathematics teacher before moving to the financial services sector in 1997. In 1998 he began developing financial plans for retirement, initially as a para-planner, and from 1999 constructing investment portfolios for clients. Steve has been recognised since August 2001 as a Certified Financial Planner professional in good standing with the FPSC®, the Financial Planning Standards Council of Canada. In 2011 Steve and his long time colleagues Todd Thompson and Vickie Snow became financial advisors with MGI Financial Inc. (now Desjardins Financial Security Investments Inc.)
Steve provides personalized service to clients to help ensure they will have a financially secure retirement. He works with clients in the development and ongoing monitoring of their financial plans to ensure that they are on track and will position clients for financial security. Together they create and maintain investment portfolios that will sustain retirement income throughout retirement. Helping clients achieve their investment, tax planning and estate planning goals is Steve's paramount objective.

Email Stephen Cock
---
Vickie was born in Montreal, the youngest of six children, but grew up in Ottawa. Her experience in financial services began with Canada Trust while she was still in high school. Upon graduation from the University of Ottawa with a Bachelor's degree in Social Sciences, she worked for a number of years with a firm of Clinical and Consulting Psychologists before deciding to return to financial services.
Vickie was raised with a strong work ethic and values honesty, integrity and knowledge. As a Certified Financial Planner (CFP) and a Chartered Life Underwriter (CLU), she maintains membership with the Financial Planning Standards Council (FPSC) and Advocis: The Financial Advisors Association of Canada. On several occasions over the past few years she has volunteered with the FPSC drafting material for, and marking, certification exams for those wishing to become financial planners.
In 2011, Vickie decided to join MGI Financial Inc. (now Desjardins Financial Security Investments Inc.) and start TRIO Financial Planning with her long time colleagues, Todd Thompson & Stephen Cock. The shared philosophy, of assisting individuals and families identify and meet their financial goals and objectives, provides a strong foundation for their partnership. They support one another in their quest to provide the best retirement, tax and estate planning services combined with appropriate investment and insurance strategies.
Vickie is committed to helping her clients achieve financial security. When asked about her work she says, "I am fortunate to be a part of my clients' lives. I am proud that they trust our relationship and I look forward to seeing them and hearing about their successes and challenges."
In her leisure time, Vickie enjoys reading, cooking and golfing but most importantly the company of friends and family.

Email Vickie Snow
---
Todd moved to Ottawa from Southwestern Ontario in 1991 to study finance at Carleton University. After graduating with an Honours Bachelor of Commerce in 1995, he joined a large, independent financial planning firm in the spring of 1996. Todd completed his Certified Financial Planner's designation in 2000 and has practiced as a financial planner and investment advisor since.
After 16 years with the same firm, Todd decided to join MGI Financial Inc. (now Desjardins Financial Security Investments Inc.), and start TRIO Financial Planning with his long time colleagues Vickie Snow and Stephen Cock. Having worked closely with both Vickie and Stephen for over a decade has provided a shared vision and ethic and he looks forward to a continued, strong partnership.
Todd specializes in retirement planning and investment portfolio construction and management, and enjoys taking the time to answer all client questions and providing education regarding their personal financial situation.
A long-time member of the Canadian fiddle and step-dance community, Todd played competitively from the age of 7 until his late 20's and has taught fiddle for over 20 years. He currently volunteers as Treasurer and Director of the Canadian Grand Masters Fiddle Association.
In his leisure time, Todd enjoys hockey, golf, cooking, and salt water aquariums.

Email Todd Thompson